BONE GNAWER "Cannibal Crematorium" Gatefold LP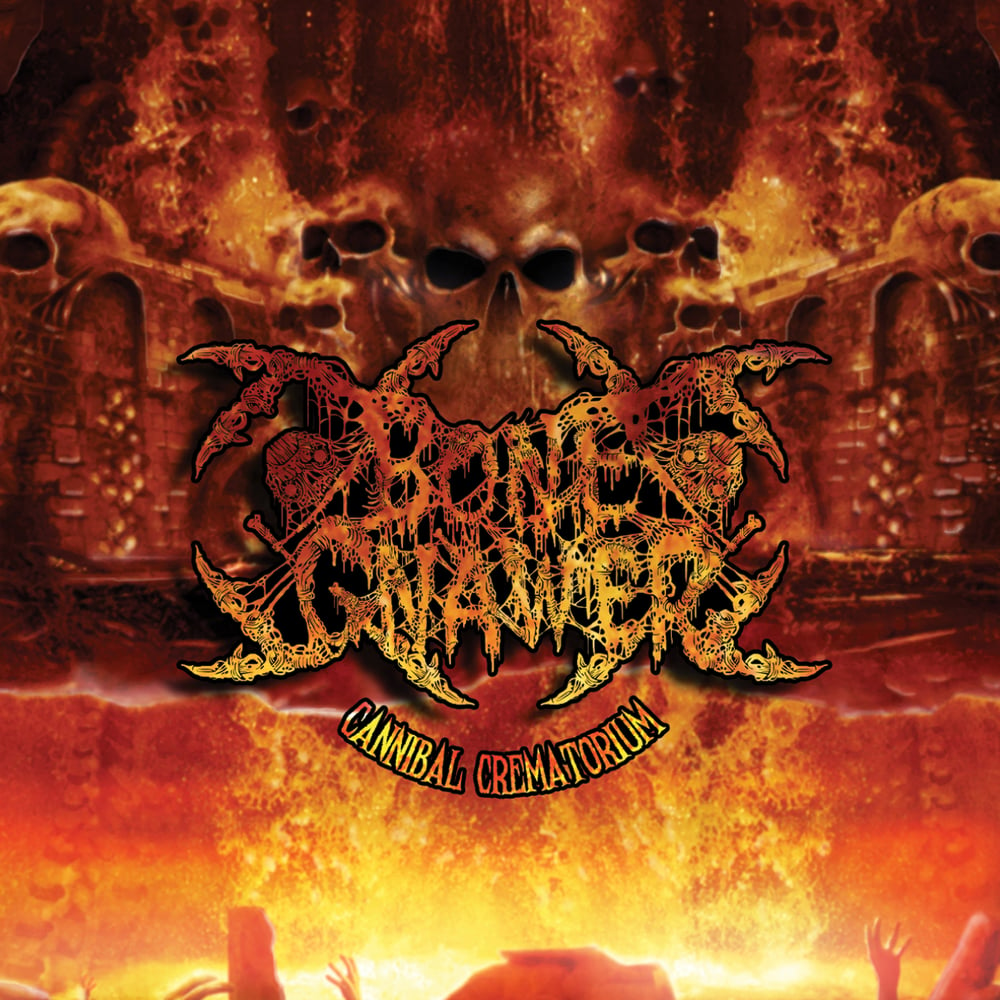 Horror N' Gore connoisseurs BONE GNAWER returns to apex form with the band's much-anticipated sophomore full-length record "Cannibal Crematorium"!
Once again led by Death Metal legend Kam Lee (ex-Massacre, ex-Mantas, etc) and with the prior emphasis focusing on composing (dead) catchy riffs that sear deep in, "Cannibal Crematorium" is not something that you listen and forget easily. Simply put, there are no mindless brutality or distasteful technicality when it comes down to BONE GNAWER; this is purely good ol' fun Death Metal the way this genre intended to be.
Featuring Dave Ingram (ex-Benediction, Down Among The Dead Men, etc), Mark Riddick (Fetid Zombie), Vincent Crowley (Acheron) and many more.
Sliced and diced on wax vinyl with a limited run of 200 copies White on Blood Red splatter and 300 copies on classic Black vinyl.
TRACK LISTING:
1. The Anthropophagist Inferno
2. Modern Day Cannibal (Featuring Sly Goregnome of FONDLECORPSE)
3. Chainsaw Carnage (Featuring Adam Scott & Tom Knizer of CARDIAC ARREST)
4. Horrors In The House Of Human Remains (Featuring Matt Witchclan of DEADMAN'S BLOOD & WITCHCLAN)
5. Chawed, Mauled & Gnawed (Featuring Noel Kemper of GRUESOME STUFF RELISH & ALTAR OF GIALLO)
6. Il Sesso Bizzarro Di Cannibali (Featuring Miss Desideria Gabreiella Annuziata)
7. Chrome Skull (Featuring Vincent Crowley of ACHERON)
8. Below A Murder Of Carrion Crows (Featuring Patrick Bruss of CRYPTICUS)
9. Carnivore Beneath (Featuring Dave Ingram of DOWN AMONG THE DEAD MEN)
10. Untold Story: Human Pork Bun (Featuring Mark Riddick of FETID ZOMBIE)
11. Cannibal Crematorium (Featuring Dany Dead of DEAD)
Black Vinyl

White Vinyl With Red Splatter