RIPPED TO SHREDS "亂 (Luan)" LP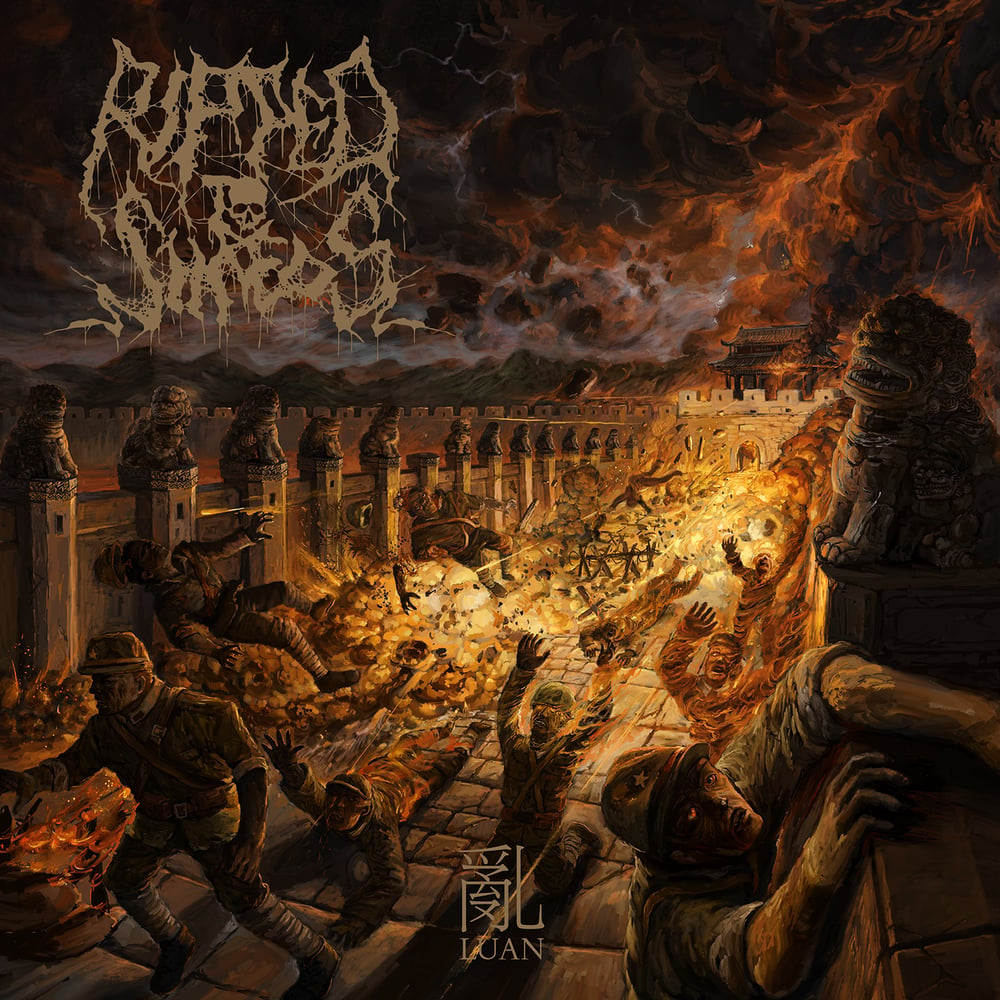 The chainsaw-doused RIPPED TO SHREDS return once again with the second conceptual full-length record "亂 (Luan)", ten serrated tracks of galling, uncompromising Death Metal with labyrinthine structures; loosely based on an ancient Chinese war-themed folktale.
With a fresh line-up consisting of Justin Bean (Trenchrot, Daeva, etc) and Tom Warrior (Obscure Transmissions, Death Fortress, Siege Column, etc), "亂 (Luan)" also features forward-thinking sixstringer Takafumi Matsubara (Gridlink, Retortion Terror, etc), Phil Tougas (Chthe'ilist, Funebrarum, etc) and Horrendous axeman Damian Herring on guest guitar solos. "亂 (Luan)" truly bridges the gap between old and new Death Metal by incorporating an interesting twist to a closely guarded sound for decades.
Mixed by Greg Wilkinson at Earhammer Studio (Atrament, Extremity, Necrot, etc), mastered by Damian Herring at Subterranean Watchtower Studio (Blood Incantation, Suffering Hour, Witch Vomit, etc) and imposingly monumental artwork by Chinese artist Guan Yang (Infant Annihilator, Ritual Day, etc).
2nd pressing of the vinyl version of "亂 (Luan)" will be lavishly denominated in the following variants:
- 200 copies Transparent Orange Vinyl
- 200 copies Transparent Yellow Vinyl
- 100 copies Black vinyl
TRACK LISTING:
1. Intro
2. Righteous Fist To The Teeth Of The Wicked
3. 白骨精 (White Bone Spirit)
4. Eight Immortals Feast
5. Throes of a Dying Age
6. Interlude
7. Opening Salvo
8. 黑木崖: 日月神教第二節 (Massacre At Blackwood Cliff - Sun Moon Holy Cult Part 2)
9. Ripped To Shreds
10. Remnants
Transparent Orange Vinyl

Transparent Yellow Vinyl

Black Vinyl